Welcome to Michigan Triple Threat Basketball
Michigan Triple Threat is an AAU basketball program based in Lansing, Michigan.  The mission of Triple Threat is simple;  to mentor and develop top notch youth basketball players.  Through high level coaching and fundamental basketball philosophies, Triple Threat is helping to cultivate the stars of tomorrow.
Michigan Triple Threat 




Boys Winter Basketball Tryouts!




As the state of Michigan begins to open, Michigan Triple Threat Basketball is going to start preparing for the upcoming season. I have posted tryouts and will do our best to make this a safe and good experience.
Please be assured our focus is on the health and safety of our players and families. I am looking for coaches and practice time to get this going for kids!
We are going to try and start some tryouts!
3rd/4th Grade – TBD
5th Grade – TBD

6th Grade – Sunday April 18th 5:30pm – 7:00pm
Under the Nets – (Barn)
3415 West Clark Rd.  Lansing, MI 48906
Please register on line if interested in playing this spring.
High School
10th/11th Grade
April 21st from 5pm to 6:30pm
Portland Church of Nazerene (9466 Cutler Rd. Portland, Mi 48875)
Please preregister online or email me at eightmyles@yahoo.com
Parents we want to make sure we stay safe and follow all of the
governors regulations. Everyone who enters the building must wear a
mask while in the building, including players. We also will dismiss
people as soon as the tryout is over and not allow people in for following
tryout until designated time of tryouts and maintain social distancing.
Please register online before the tryout so I can have
an idea on how many kids plan to participate.
You can do that at Join a team under Teams tab.
We will also charge a $10 tryout fee
If you are interested in playing and cannot make tryouts please let me know. We may have other tryouts depending on number of kids who attend.
Michigan triple Threat 
Spring Teams 2021
Boys Teams
6th Grade – Vondra
Jack Borgstrom
Will Grant
Aiden Nohel
Logan Padgett
Charlie Parker
Jacob Payne
Aiden Riley
Brody Rupprecht
Drake Stipcak
Erik Stevenson
Conner Vondra
7th Grade – Martin
Jacob Martin
Bryce Pratl
Easton Thorburn
Wardel Wicker II
Carter Wolston
Laterion Dorty
Marquis Bell
Andrew Frisbee
Zach Kluzinga
Braxton O'Bryant
7th Grade – Myles
Jaden Bender
Grady Eklund
Brady Johns
Owen Moore
Traverse Moore
Jake Rivet
Conner Sawyers
Ashton Telsehow
SamVanZee
Tej Virk
Carter Wade
Carter White
7th Grade – Burton
Cayden Ali
Matthew Bertrand
Charlie Dutcher
Drew Maloney
Adam Molnar
Jace Norton
Gavin Rabideau
Hayden Richey
Tyler Spitzley
Harrison Sydow
Jackson Sydow
8th Grade – Wonch
Luke Blattert
Brayden Joslin
Zach McNelley
Gregory Myles
Jackson Myott
Jakob Nebo
Noah Pfeifle
Jackon Shadaker
Levi Smith
Pete Wahl
Luke Wonch
8th Grade – Garcia
Isiah Armstrong
Nolan Colligan
Dontrell Dennis
David Frisbee
Austin Garcia
Gerrit Garcia
Braden Kortgoede
Geremy Matthew
Evan Norton
Reece Thelen
Josh Pritzloff
10th/11th Grade Marowelli
Justice Ashley
Logan Castillo
Shawn Foster
Aiden Marowelli
Danton Marowelli
Anthony Morales
Jaden Pruitt
Austin Stone
Miles Thompson
Caedeon Trotter


7th Grade – Burton (still doing tryout on Friday at 7pm)
at Court One Training Facility
7868 Old M-78
East Lansing, MI  48823
---
Congratulations to our 7th Grade team who were the Storm Classic Platinum Runner-up!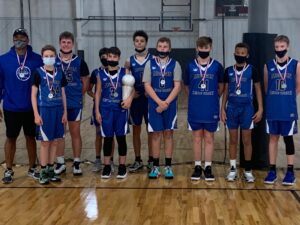 For More Information:
Contact Monty Myles at
eightmyles@yahoo.com