Welcome to Michigan Triple Threat Basketball
Michigan Triple Threat is an AAU basketball program based in Lansing, Michigan.  The mission of Triple Threat is simple;  to mentor and develop top notch youth basketball players.  Through high level coaching and fundamental basketball philosophies, Triple Threat is helping to cultivate the stars of tomorrow.
Michigan Triple Threat 




Boys Winter Basketball Tryouts!




As the state of Michigan begins to open, Michigan Triple Threat Basketball is going to start preparing for the upcoming season. I have posted tryouts and will do our best to make this a safe and good experience.
Please be assured our focus is on the health and safety of our players and families.
We are going to try and start some tryouts!
Date: March 21st, 2021
3rd/4th Grade – TBD
5th Grade – TBD
6th Grade – TBD
7th and 8th Grade – 7:00pm – 9:00pm
High School: TBD (April)
Location:
Court One Training Facility
7868 Old M-78
East Lansing, MI
Parents we want to make sure we stay safe and follow all of the
governors regulations. Everyone who enters the building must wear a
mask while in the building, including players. We also will dismiss
people as soon as the tryout is over and not allow people in for following
tryout until designated time of tryouts and maintain social distancing.
Please register online before the tryout so I can have
an idea on how many kids plan to participate.
You can do that at Join a team under Teams tab.
We will also charge a $10 tryout fee
If you are interested in playing and cannot make tryouts please let me know. We may have other tryouts depending on number of kids who attend.
Michigan triple Threat 
Spring Teams 2020
Boys Teams
4th Grade – Selbig 
Collin Bewersdorff
Brady Doerner
Logan Farmer
Payton Goodine
Lucas McCoy
Zach Miller
Rylan Ritchey
Trey Selbig
Carson Simon
Aiden Sprague
Grant Starks
Tyger Whitbeck
5th/6th Grade – Vondra
Darris Dennis
Henry Miller
Jacob Payne
Logan Padgett
Nolan Rasch
Zien Roeglin
Brady Rupprecht
Avery Sellek
Drake Stipcak
Conor Vondra
Will Take 1 more 5th Grader
6th Grade – Burton
Charlie Dutcher
Brody Frayre
Drew Kersten
Andrew Maloney
Owen Moore
Jace Norton
Gavin Rabideau
Tyler Spitzley
Erik Stevenson
Harrison Sydow
Jackson Sydow


6th Grade – Martin
Carson Chapin
Travis Davis
Nathan Dipple
Andrew Frisbie
Marquis Jones
Jacob Martin
Braxton O'Bryant
Bryce Pratl
Carter Rolston
Travis Satterla
Eston Thorburn
Wardell Wicker
6th Grade – Myles
Kory Amachree
Jaden Bender
Grady Eklund
Brady Johns
Traverse Moore
Jake Rivet
Conner Sawyers
Ashton Telschow
Samuel VanZee
Carter Wade
Carter White
7th Grade – Wonch
Nick Heal
Brayden Joslin
Zach McNelley
Greg Myles
Jackson Myott
Jakob Nebo
Lucas Payne
Noah Pfeifle
Levi Smith
Pete Wahl
Luke Wonch
7th Grade – Starks (still doing tryout on Monday at 6pm)
7th/8th Grade – Farmer  (still doing tryout on Monday at 6pm)
Girls Teams – TBD
6th/7th Grade 
---
Congratulations to our 6th Grade team who were the GLBC Session II Champions!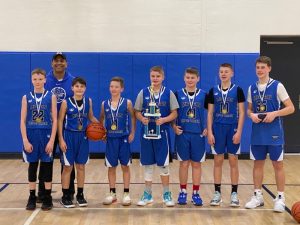 For More Information:
Contact Monty Myles at
eightmyles@yahoo.com