Welcome to Michigan Triple Threat Basketball
Michigan Triple Threat is an AAU basketball program based in Lansing, Michigan.  The mission of Triple Threat is simple;  to mentor and develop top notch youth basketball players.  Through high level coaching and fundamental basketball philosophies, Triple Threat is helping to cultivate the stars of tomorrow.
 Feb 6th Games all at Aim High Sports
3rd Grade Myles
– 10:00am vs Dynamic & 11:00am vs Titians Mercer
5th Grade Foley
– 2:00pm vs Titians – Jackson 3:10pm vs Titians Woodward
7th Grade Blue (Griffith)
– 10:10am vs Panthers, 12:30pm vs Prospectors Docs and 1:40pm vs Tony M's
7th Grade Black (McClain)
– 3:40pm vs Haslett, 4:50pm Prospectors Wourman and 7:30pm vs Mavericks
8th Grade Black (Fuller)
-2:50pm vs Titians, 5:10pm vs Portland and 7:30pm vs Westside
8th Grade White (Myles)
-3:10pm vs Dream Team, 5:30pm vs Prospectors Wilkerson, 6:40pm vs Prospectors Wourman
Congratulations to the Triple Threat Teams

in the Gym Rats MLK Classic!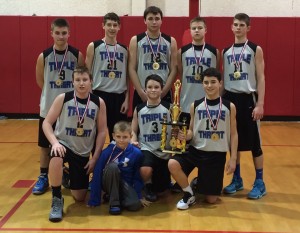 Congratulations to the Triple Threat Teams
in the FASST Tournament!